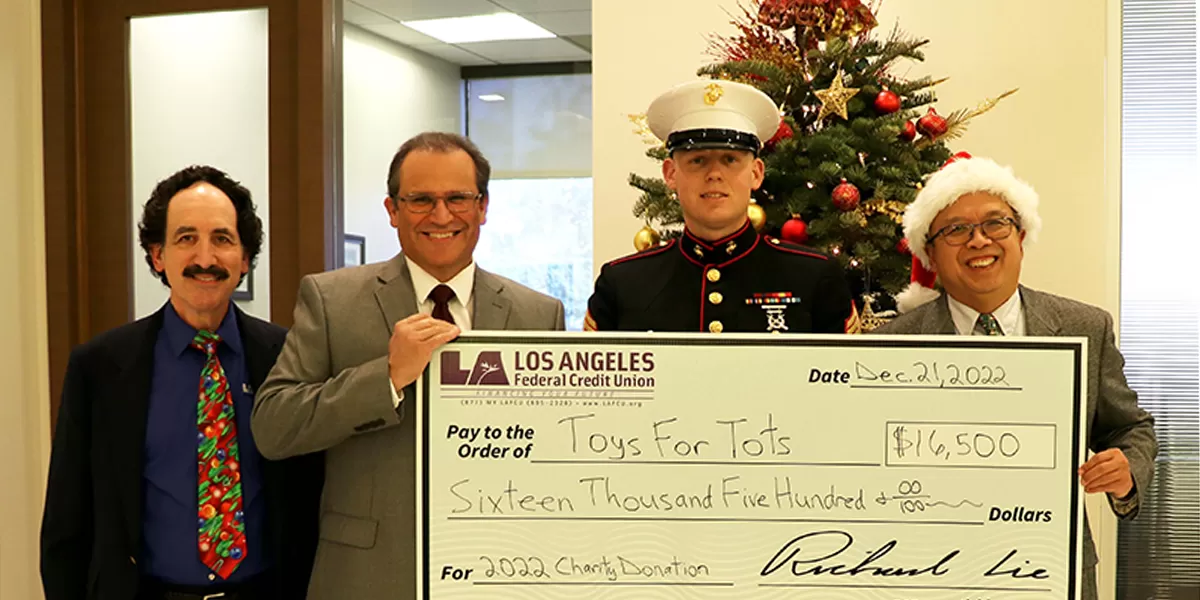 Toys for Tots Fundraiser
Helping Children
Los Angeles Federal Credit Union (LAFCU) is proud to announce that we raised $16,500 in donations for our 2022 Toys for Tots toy drive. Like last year, instead of collecting toys, funds were easily & conveniently raised online and in our branches. Our $5,000 goal got eclipsed quickly and we ultimately raised $11,500 - surpassing the goal by 130%. We also matched up to $5,000 through our 501(c)3 charity, the Los Angeles Charitable Association (LACA), bringing the total donated to $16,500, which is an all-time record fundraising amount for the credit union.
All proceeds raised will be used to buy then distribute toys to less fortunate kids in Southern California during the holidays. The U.S. Marine Corps Toys for Tots foundation distributes over 18 million toys to 7 million children annually. The foundation is also a 501(c)3 not-for profit public charity, and 97% of donations go directly to its mission of helping children. LAFCU has been a 27+ year partner with Toys for Tots and is proud to be a part of its mission. 
Credit Unions
Helping Small Businesses
Credit unions are not-for-profit, community-based, member-owned financial institutions that are uniquely positioned to help America's more than 27 million small businesses. They return yearly profits to their members in the form of lower interest rates on loans, lower fees on accounts, and better interest on savings accounts—including business accounts and loans. They also offer smaller business loan amounts, which can be a huge advantage for entrepreneurs who are just starting out.
Beyond these dollars and cents advantages, credit unions are operated on the principle of "people helping people." What this means for small businesses is a more personal, local approach to loan approval—often a big hurdle for the new small business. The approval process is more likely to include the credit union's own interactions with the applicant than a big bank's universal application process.
Auto Options
Sell or Trade?
So you've decided to buy a new car. Congratulations! Now comes the decision of what to do with your old car. These steps can help you make the choice that's right for you.

Research Your Car's True Value 
The first bit of research you'll want to do is establish the current value of the vehicle you are going to sell or trade in. Kelly Blue Book is a good place to start. Many other Internet sites and buying guides are available to assist you in your research. Make sure the information you are looking at is current, as prices can vary greatly from year to year. Don't forget that other factors, such as mileage, accident history, maintenance records, and general appearance, will factor into the amount a buyer is willing to pay. The sentimental value you place on your car may be just that. "Your baby" may not be as charming to others as you think.